I wrote an article titled "Apple: The Teenager Effect" in early November in which I argued that Apple's (NASDAQ:AAPL) brand loyalty among younger generations was one of several reasons to be bullish on the company.
I believe Apple's popularity among teens demonstrates several unique qualities about its products and operating system that position the company well for continued long-term success.
Despite a 30% share price run-up since that article was published, I remain bullish on the company and will explain why.
Dominance Among Teens
As I wrote in my last article on the company, the iPhone is and will remain the smartphone of choice for younger consumers. Piper Jaffray recently published its semi-annual Taking Stock With Teens survey, and the results are good news for Apple shareholders. 76% of teenagers surveyed by the firm own an iPhone, while 81% plan to purchase one in the future.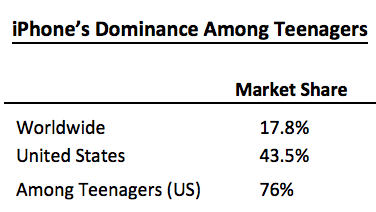 Please note that I pulled the above market share statistics from a number of sources and made my best effort to ensure that the data I used were as recent as possible: worldwide market share, US market share, and US market share among teenagers.
There is a massive, intriguing disparity between the iPhone's popularity among the general population and among teenagers, which I believe has significant implications for Apple shareholders. The iPhone's popularity among teenagers has continuously grown for the past several years, as per this infographic from Piper Jaffray's survey: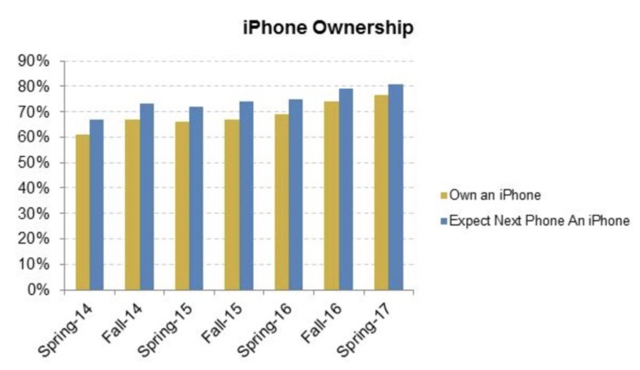 >
Connectedness
I believe this disparity can be explained by examining the differences in what teenagers look for in a smartphone: I would argue that unlike older generations, teenagers do not care as much about price. This can be attributed to a couple of factors, most notably that a large portion of teenagers likely do not pay for their own cell phone.
I would also make the assertion that teenagers do not care as much about technical specifications and minute differences in screen size, processor speed, etc. If they did, it's unlikely that the iPhone would be so dominant among teens: After all, it's difficult to argue that the iPhone has significantly better specs than those of competing devices like the Galaxy S8 (OTC:SSNLF) or the Google (NASDAQ:GOOG) (NASDAQ:GOOGL) Pixel.
I would argue, as I did in my last article on Apple, that teenagers prefer iPhones primarily due to built-in features such as FaceTime and iMessage, which encourage and foster a close-knit sense of community and connectedness among iPhone users. This is precisely the reason for the rise of the "teenage smartphone addiction," a trend that has been widely commented on by various news and media outlets.
Teenagers are the most social, connected group of individuals in our society and they gravitate towards iPhones for a reason: The iPhone is the premier social device. Built-in apps for video calling and messaging like FaceTime and iMessage, along with the iPhone's sleek, aesthetically pleasing profile have made it the phone of choice for teens and younger consumers.
Apple's modus operandi supports my arguments. The company has amassed a reputation for being relatively slow to bring the newest and most technologically-sophisticated features to the table: The company has a "talent for perfecting the work of others," as per this WSJ article. The company understands that iPhones are popular due to their connectedness and fluidity, not because of slight differences in innovations and technological specifications between the iPhone and competing devices.
Also, the iPhone's popularity among teens creates and feeds an interesting cycle where developers of teen-centric apps spend more time and energy improving the interface and user experience of their apps. Snapchat (NYSE:SNAP) is a perfect example of this phenomenon: The company admitted in its S-1 filing that it spends more time developing the iOS version of its app than the Android version.
This has led to Snapchat becoming much more popular on iOS, and has given rise to countless complaints of subpar video quality when recording with an Android device. I believe this development accounts in part for the iPhone's dominant and steadily-growing market share among teens.
Implications
The implications of the iPhone's popularity among teens are enormous. There are countless articles, blog posts, and real-life arguments over what phone and operating system is the best. This is an important debate with implications for the share prices of companies like Apple and Samsung, whose revenues are derived in large part from sales of smartphones.
There are many different arguments and points made within these debates: Specs, screen size, price, etc. are all factors used by competing sides in declaring their preferred smartphone the best. The Google Pixel, for example, created a lot of buzz when it was announced and was declared an "iPhone killer" by some and a reason to be bearish on Apple stock.
However, these approaches to gauging which phone is the best should be considered secondary to one of the best and most effective gauges of smartphone quality and commercial viability: looking at which smartphone teenagers are using. After all, what better judge of smartphone quality than the group that spends the most time on their phones? I would argue that the iPhone's popularity among teens are a testament to the quality and a solid gauge of the device's future success and staying power.
I am not saying that the iPhone is undoubtedly the best device or that everyone should own one. Different people have varying needs and preferences, and as such, I believe it's rather pointless to crown a single device. Instead, I'm making the point that teenagers' preferences are an important factor to look at when evaluating the share price of a consumer company like Apple.
The iPhone comprises the bulk of Apple's revenues and its sales are arguably the singularly most important indicator of Apple's company performance and share price direction. As such, I believe monitoring its popularity is a key task for investors.
Competition
A significant part of the reason for Apple's share price weakness for much of 2016 stemmed from increased fears and worries about competition. Devices like the Google Pixel were garnering a ton of praise and attention from the media, with Forbes calling it the best smartphone of 2016.
Samsung, despite its massive misstep with the Note 7, continues to provide Apple with serious competition. The company has continued creating impressive devices like the Galaxy S8 and is in a close race with Apple to be the number one smartphone manufacturer in terms of devices shipped.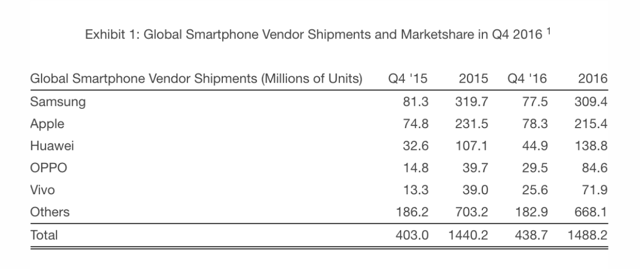 >
I believe the release of devices like the S8 and the Pixel, along with data like the above table, have led to unreasonable worries and concerns about Apple's future prospects. Tables like the one shown above appear to demonstrate a relatively close race in the smartphone industry, but I believe there is a critical fact that many analysts and investors seem to forget.
Apple remains the number-one smartphone manufacturer despite the fact that its smartphone lineup consists of just one expensive device. It has largely managed to avoid and ignore the industry trend of producing a wide array of devices to meet different tastes and appeal to as wide of a customer base as possible.
Samsung's product lineup, for example, consists of a diverse range of devices, both in terms of quality and price: high-end smartphones like the Galaxy Note and S series are supplemented by mid-range, affordable options like the Galaxy J7 and J3.
I believe the iPhone's continued strength despite its price point and years of intense competition from manufacturers like Samsung, HTC, Google, etc. is one of the best indicators of Apple's future success. There have been concerns about lost market share, but I believe this is more a result of the flood of low-price Android devices that have become popular in countries like China.
Valuation
Given the company's 40% share price increase in less than 12 months, I believe the company is fairly valued at the moment. Apple's P/E multiple of 17 provides a reasonable medium between placing a premium on the company's long-term potential and the strength of its brand while recognizing that its high growth days are over.
I believe long-term investors in Apple should take reports about slowing growth and revenues with a grain of salt; short-term sales fluctuations are inevitable given Apple's unique product cycle. The long-term trajectory of its sales and profitability remains solid, due in large part to the iPhone's strength. As many other analysts have noted, the iPhone 8 should see strong sales and lead a return to growth for the company.
I remain bullish in the long run on Apple as I believe its brand strength, customer loyalty, and product quality will lead to further long-term share price appreciation.
Conclusion
I wrote this article not as a comprehensive analysis of Apple's share price or performance but as a "piece of the puzzle" for Apple shareholders and potential investors. The argument I outlined in this article is one of the main reasons why I believe the iPhone will maintain its dominance among smartphones and one reason to be bullish on Apple in the long run.
I will keep readers posted via articles on this site and welcome any questions or disagreements either in the comments section or via email (email address can be found in my Seeking Alpha bio). Thanks for reading!
Disclosure: I/we have no positions in any stocks mentioned, and no plans to initiate any positions within the next 72 hours.